Cardiovascular risk in diabetes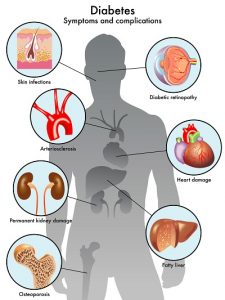 Cardiovascular complications – these include peripheral vascular disease and stroke. People with diabetes are two to four times more likely to develop cardiovascular disease than people without diabetes. Furthermore cardiovascular disease is the leading cause of mortality for people with diabetes.
Diabetic nephropathy – this condition leads to a deterioration in the ability of the kidneys to properly filter circulating blood due to damage caused to blood vessels from hyperglycemia. Eventually, the condition can progress to end-stage renal disease. However, most patients do not progress to end-stage renal disease as the risk of death from heart disease is more than that from kidney failure.
Diabetic retinopathy – broad ophthalmologic problems resulting from hyperglycemia, occurring well after the initial diagnosis of the diabetic condition. Different types of diabetic retinopathy are common such as, proliferative diabetic retinopathy, nonproliferative diabetic retinopathy, and diabetic macular edema (fluid and protein deposition).
Diabetic neuropathy – nerve injury may result, temporarily or permanently, due to decreased blood flow and hyperglycemia. Types of neuropathy include autonomic neuropathy, with changes to digestive function and possibly cardiac function and blood pressure; peripheral neuropathy with either pain or loss of feeling or feeling vibrations in the extremities; focal neuropathy, with sudden muscle weakness or pain from a single nerve or group of nerves; and proximal neuropathy, with pain in the thighs and hips.
The AGE Reader is a great tool to identify patients with an increased risk of developing diabetic complications.
Request information
Would you like to learn more about our products? Request any information you wish to receive here.
Non-invasive cardiovascular risk assessment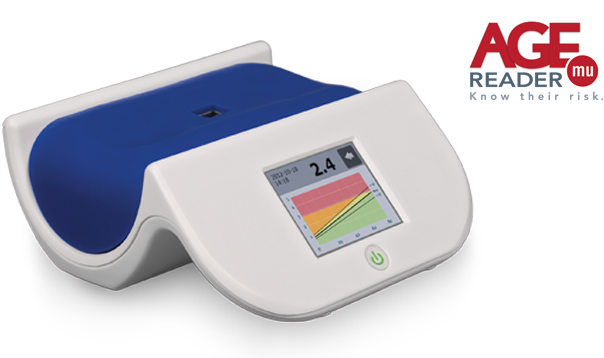 The AGE Reader mu - connect is the latest generation AGE Reader that combines a high measurement quality standard with an innovative design. The AGE Reader mu is the perfect tool for physicians that want to improve the personalized care of their patients.
Read more »
Read more »