New key publication: large scale study in metabolic syndrome
Groningen, the Netherlands. June 13, 2017.
Recently a new scientific paper about the AGE Reader was published. It concerns an analysis of 78.671 non-diabetics subjects of the LifeLines study, a longitudinal cohort study with 167.000 participants. The aim of this study was to examine the association between the AGE Reader measurement and the presence of the metabolic syndrome as well as its individual components in a general population.
In this publication the authors conclude that the AGE Reader measurement was significantly associated with the presence of metabolic syndrome and some of its individual components. Please click here for the full-text version of this paper.
What is the added value of this validation paper for the AGE Reader? 
This study provides clinical validation in a very large study group of almost 80.000 subjects.
This study is performed in general population and not in a specific patient group.
This study provides new data for a broad application as a non-invasive screening tool to detect individuals at high risk for both cardiovascular disease and type 2 diabetes.
Latest news items
Request information
Would you like to learn more about our products? Request any information you wish to receive here.
Non-invasive cardiovascular risk assessment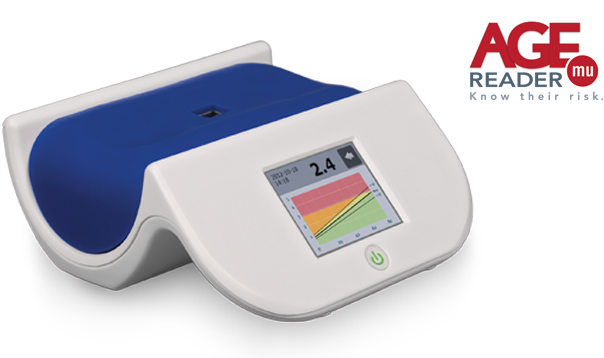 The 'AGE Reader mu' is the next generation AGE Reader that combines a high measurement quality standard with an innovative design, at a reduced pricelevel. The AGE Reader mu is a perfect tool for diabetologists and family doctors.
Read more »
If you want to receive the newsletter with information about DiagnOptics' products, please send us your email address.