Diagnoptics appoints SMT Medical as new distributor in Germany
Groningen, the Netherlands – January 15, 2018.
Diagnoptics announces SMT Medical technology GmbH&Co. KG (SMT Medical) has been appointed as the second distributor of the AGE Reader mu in Germany. 
Diagnoptics appointed SMT Medical as the co-exclusive distribution partner next to earlier appointed MSP Bodmann GmbH (Endocrinology, Diabetology, Pharmacy, General Practitioners). SMT will be serving the following markets as an exclusive distributor:
Angiology & Phlebology Neurology & Neurosurgery
Corporate Health & Wellness Epidemiology
Preventive and Anti-Aging Medicine Cardiology & Hypertensiology
Nephrology & pediatric nephrology
"Diagnoptics was seeking an additional distribution partner in these areas after receiving a lot of interest in the last year. Diagnoptics has been building a sound basis in the German market for some time and now the time was right to start a collaboration with a local and experienced distribution partner. We are very glad that with SMT, as our long-term valued partner, we have been able to appoint an experienced team to help explore the German market for the new AGE Reader mu connect." said Diagnoptics' CEO Bart van den Berg.
For more than ten years, the team of SMT medical has been collaborating with Diagnoptics in the distribution within the German speaking countries. With the AGE Reader SU activities were mostly limited to the research area. Rolf Schlegelmilch, managing director of SMT: "We are very enthusiastic about the closure of a new distribution agreement with Diagnoptics for the successor model AGE Reader mu. In contrast to the previous model, the technically advanced and substantially less expensive AGE Reader mu offers a high potential for the sale in the private practice office and the specialized hospital department. Especially the application in a broad patient population and the favorable reimbursement with short amortizations are attractive benefits for the doctor's office. Also the usage of the instrument in the well-publicized areas of preventive medicine as well as public and corporate health programs offer excellent sales opportunities. We look forward to a continued cooperation with Diagnoptics in expanding sales and enhancing success of the AGE Reader MU in D-A-CH."
Latest news items
Request information
Would you like to learn more about our products? Request any information you wish to receive here.
Non-invasive cardiovascular risk assessment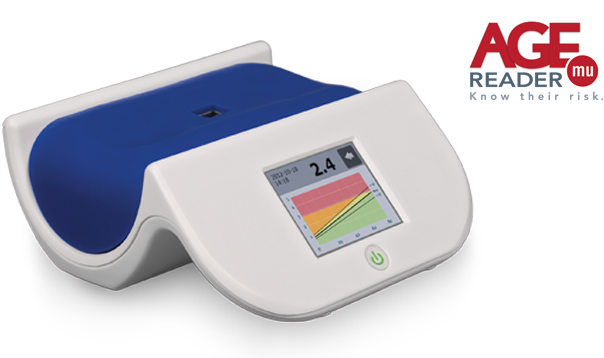 The 'AGE Reader mu' is the next generation AGE Reader that combines a high measurement quality standard with an innovative design, at a reduced pricelevel. The AGE Reader mu is a perfect tool for diabetologists and family doctors.
Read more »
If you want to receive the newsletter with information about DiagnOptics' products, please send us your email address.