MSP bodmann GmbH appointed as new distributor in Germany
Groningen, the Netherlands. June 29, 2017.
Diagnoptics announces that MSP bodmann GmbH (MSP) has been appointed as the new distributor of the AGE Reader in Germany for the pharmacies, general practitioners and diabetologists markets. 
MSP has been a successful player in the German diabetes market for over 15 years. Their main product is the GlucoSmart blood glucose measuring device. "Non-invasive technologies are pointing the way into the future of diagnostics – also for the early detection of risks of chronic diseases in the initial stage," explains Angela Bodmann, Managing Director of MSP bodmann GmbH. "With the innovative AGE-Reader, diabetologists as well as general practitioners are able to determine within a few seconds, the risk of diabetes or cardiovascular complications. The application is carried out by means of an optical measurement of the skin, without blood sampling and lengthy, cost-intensive laboratory tests", continues Angela Bodmann. Around 200 scientific studies have already proven the functionality of the AGE-Reader. "For all patients to be able to quickly make use of this painless, simple and fast method, we are striving to equip a nationwide and comprehensive range of diabetologists and general practitioners throughout Germany."
Diagnoptics was seeking a distribution partner after working on the clinical validation and business development itself for the last 5 years. Bart van den Berg, CEO of Diagnoptics: "We needed a partner that is capable of building on the business development work that we did and translate this into sales in the German diabetes market. We are extremely glad to establish this collaboration with a company that is well-connected in the diabetes world and a successful history like MSP. We are confident that this partnership with MSP we will be able to bring the AGE Reader to many more clinics in Germany and we are looking forward to working with them".
The AGE Reader provides an immediate cardiovascular risk prediction in 12 seconds. The AGE Reader has been designed for patient friendly diagnosis and allows doctors to practice personalized care and prevent disease (progression). The method is convenient, easy to use and extensively validated.
Latest news items
Request information
Would you like to learn more about our products? Request any information you wish to receive here.
Non-invasive cardiovascular risk assessment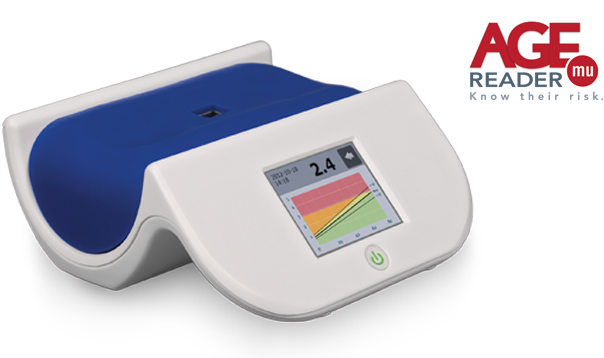 The 'AGE Reader mu' is the next generation AGE Reader that combines a high measurement quality standard with an innovative design, at a reduced pricelevel. The AGE Reader mu is a perfect tool for diabetologists and family doctors.
Read more »
If you want to receive the newsletter with information about DiagnOptics' products, please send us your email address.