Key publication: AGE Reader predicts amputation
Groningen, the Netherlands – May 5, 2015.
A recently published clinical paper by de Vos et al. demonstrates that the AGE Reader measurement result predicts amputation in patients with peripheral artery disease (PAD). These patients are at risk for lower limb amputation, but there are no easy to use clinical tools available to predict the risk of lower limb amputation of an individual patient. De Vos et al. now clearly showed the predictive value of the AGE Reader measurement for lower limb amputations in all stages of PAD.  
The authors concluded by proposing an easy-to-use clinical decision model that includes the AGE Reader measurement result and Fontaine Stage (clinical classification of PAD patients) to be used in clinical decision making.
After the breakthrough publication by de Vos et al. (2014) showing the predictive value for mortality and coronary events in the same type of patients this is another clear illustration of the clinically added value of the AGE Reader in PAD.
The abstract of this publication can be found here: De Vos et al. (2015)
Latest news items
Request information
Would you like to learn more about our products? Request any information you wish to receive here.
Non-invasive cardiovascular risk assessment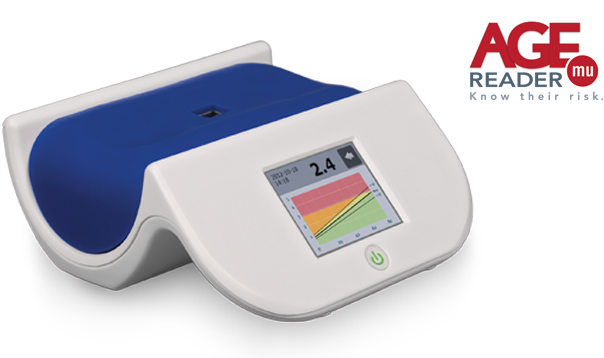 The 'AGE Reader mu' is the next generation AGE Reader that combines a high measurement quality standard with an innovative design, at a reduced pricelevel. The AGE Reader mu is a perfect tool for diabetologists and family doctors.
Read more »
If you want to receive the newsletter with information about DiagnOptics' products, please send us your email address.