Dutch government supports Diagnoptics and CTMM research project
Groningen, the Netherlands – July 6, 2015
The Dutch government financially supports a clinical intervention study on the inhibition of AGEs.
Diagnoptics is one of the main industrial partners in the CTMM research project "deAGEpyr". The main research topic is: the effects of pyridoxamine on insulin sensitivity and vascular function; a clinical trial in obese subjects.
In the Netherlands, one million people have diabetes, which is predicted to rise to 1.3 million in 2025.  The burden of disease is mainly determined by cardiovascular disease, in which accumulation of advanced glycation endproducts (AGEs) plays an important role. MUMC+, Diagnoptics Technologies and Hycult Biotech will collaborate to investigate whether an interventional strategy with a compound interfering with accumulation of AGEs leads to an improvement of insulin resistance and vascular function.
The Dutch Ministry of Economic Affairs has granted 2.5 million euros to extend seven promising research projects aimed at medical innovation. All seven research projects are in line with the roadmap of the Dutch Top Sector 'Life Sciences & Health' (LSH), one of nine sectors defined by the Dutch government to boost innovation. They are all extensions of previous high-quality research programmes started in 2008 within the CTMM institute. deAGEpyr is one of these selected seven research projects.
More information about deAGEpyr can be found here
Latest news items
Request information
Would you like to learn more about our products? Request any information you wish to receive here.
Non-invasive cardiovascular risk assessment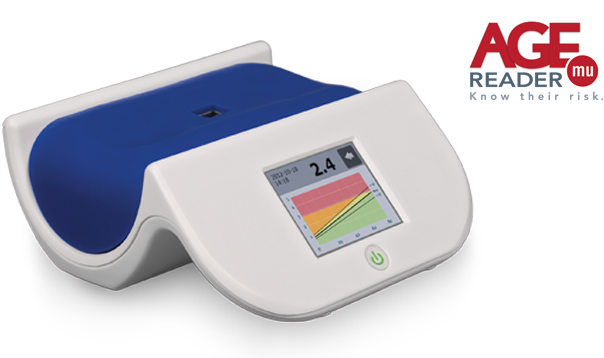 The 'AGE Reader mu' is the next generation AGE Reader that combines a high measurement quality standard with an innovative design, at a reduced pricelevel. The AGE Reader mu is a perfect tool for diabetologists and family doctors.
Read more »
If you want to receive the newsletter with information about DiagnOptics' products, please send us your email address.