Clinical validation Diab-spot published
Groningen, the Netherlands – July 12, 2013.
The Diab-spot clinical validation study has recently been published in PLOS one. In this paper Diab-spot is compared with FPG (Fasting Plasma Glucose), HbA1c and questionnaires for diabetes screening. The authors conclude that Diab-spot is superior to FPG and non-inferior to HbA1c to detect (pre)diabetes in intermediate risk persons.
DiagnOptics was the first company worldwide to introduce a technology to noninvasively measure the tissue accumulation of AGEs by means of fluorescence techniques (AGE Reader). Diab-spot features this AGE measurement and combines this with a small number of patient characteristics to calculate the Diab-spot test result. These simple characteristics include questions about other well-known diabetes risk factors , which can be easily answered on the touch screen. Diab-spot yields an immediate screening result on the spot.
Diab-spot is a non-invasive test that takes less than a minute to get a result. This allows for easy and quick pre-screening of people at increased risk of developing diabetes.
The full text version of this publication is available at no costs. A link to the full text version can be found in the section with information for professionals.
Latest news items
Request information
Would you like to learn more about our products? Request any information you wish to receive here.
Non-invasive cardiovascular risk assessment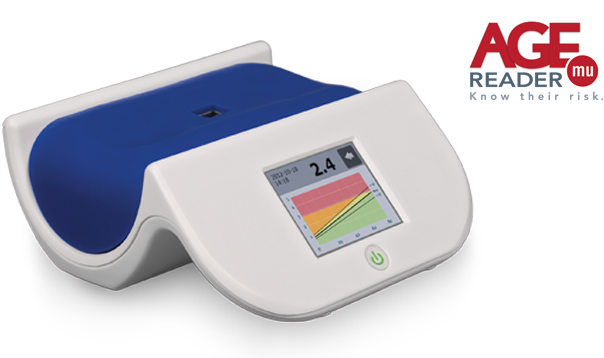 The 'AGE Reader mu' is the next generation AGE Reader that combines a high measurement quality standard with an innovative design, at a reduced pricelevel. The AGE Reader mu is a perfect tool for diabetologists and family doctors.
Read more »
If you want to receive the newsletter with information about DiagnOptics' products, please send us your email address.