AGE Reader now approved as medical device in Argentina
The AGE Reader has received its market approval from ANMAT in Argentina. "We have been working on this for a long time with our partner IRAOLA in Argentina", says Bart van den Berg, CEO of Diagnoptics. "It is now possible to source this innovative technology for cardiovascular risk assessment to doctors in Argentina." 
The AGE Reader provides an immediate cardiovascular risk prediction in 12 Seconds. It has been designed for patient friendly diagnosis and allows doctors to practice personalized care and prevent disease (progression). As an optical measurement of the skin is used, it is noninvasive and provides an alternative to cost-intensive laboratory tests. The method is convenient, easy to use and extensively validated.
IRAOLA Y CIA S.A. was founded in 1973 with the goal to introduce in Argentina innovative technology to offer society diagnostic tools and effective medical treatment and allow techniques that apply in Argentina identical to those in USA and Europe. It is specialized in the commercialization and technical support of medical devices in the area of: hospital furniture, operating room, RFID intensive care, medical waste treatment, rehabilitation and in early detection of disease like cardiovascular disease and diabetes. The availability of the AGE Reader in Argentina will certainly improve the prevention from these devastating diseases. The introduction of the AGE Reader and education of the medical society has already started, so people in Argentina may expect the opportunity to be checked on their health risks soon.
If you would like to receive further information regarding the AGE Reader, please do not hesitate to contact us. If you are based in Argentina, please contact IRAOLA directly via www.iraola.com
Latest news items
INFORMATIONSANFRAGE
Möchten Sie mehr über unsere Produkte erfahren? Fordern Sie alle Informationen an, die Sie hier erhalten möchten.
Nichtinvasive kardiovaskuläre Risikobewertung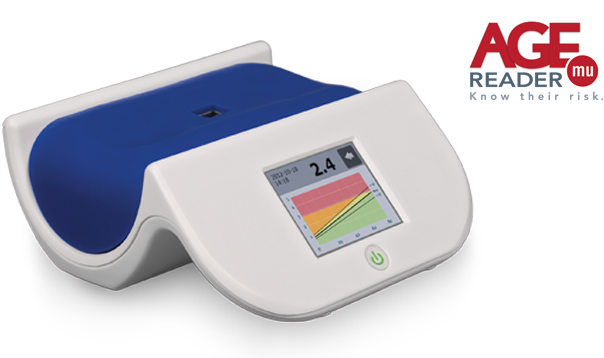 Der AGE Reader mu ist der AGE Reader der nächsten Generation, der einen hohen Messstandard mit einem innovativen Design und einem reduzierten Preisniveau verbindet. Der AGE Reader mu ist das perfekte Hilfsmittel für Diabetologen und Hausärzte.
Mehr »
If you want to receive the newsletter with information about DiagnOptics' products, please send us your email address.