New Leadership at Diagnoptics: John Mulder Takes Helm as CEO
We're thrilled to announce a significant leadership change at Diagnoptics as John Mulder becomes our new CEO per 21 august 2023. Bringing extensive marketing and management experience across industries and geographies, Mr. Mulder's appointment signifies an exciting new chapter for our company.
With a strong track record in driving innovation and growth, Mr. Mulder is set to lead Diagnoptics to new heights. His dynamic leadership and strategic vision align seamlessly with our mission to revolutionize diagnostics and enhance patient outcomes.
Mr. Mulder's appointment coincides with Mr. Bart van den Berg's continued role as Vice President of Business Development. Having served as CEO from the start of the company, Mr. van den Berg's contributions have been invaluable, and his deep industry understanding and partnership skills will drive our business development efforts.
Together, Mr. Mulder and Mr. van den Berg's leadership forms a dynamic executive team. Their combined expertise and shared commitment to Diagnoptics' mission will strengthen our position as a diagnostics industry leader.
Please join us in welcoming John Mulder as CEO and congratulating Bart van den Berg on his new role as VP of Business Development. With their guidance, we anticipate an exciting future, confident that Diagnoptics will continue to thrive in healthcare diagnostics.
August 24, 2023
Latest news items
INFORMATIONSANFRAGE
Möchten Sie mehr über unsere Produkte erfahren? Fordern Sie alle Informationen an, die Sie hier erhalten möchten.
Nichtinvasive kardiovaskuläre Risikobewertung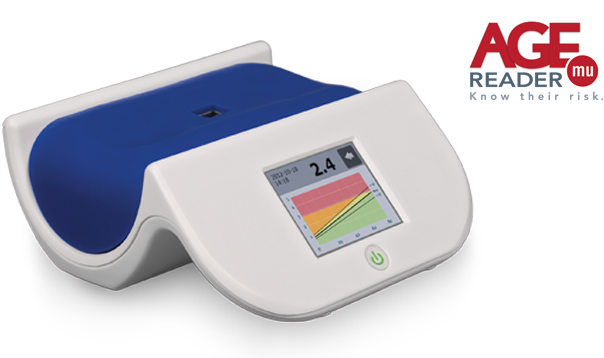 Der AGE Reader mu ist der AGE Reader der nächsten Generation, der einen hohen Messstandard mit einem innovativen Design und einem reduzierten Preisniveau verbindet. Der AGE Reader mu ist das perfekte Hilfsmittel für Diabetologen und Hausärzte.
Mehr »
If you want to receive the newsletter with information about DiagnOptics' products, please send us your email address.