Support activities for all AGE Reader SU models to end soon
The AGE Reader SU is a legacy model and after March 31st 2023 Diagnoptics will no longer
perform servicing and repairs for the AGE Reader SU (for both models: DSU00100 and 214B00102 – mentioned on the product label).
These models were manufactured up to 2016 and have been superseded by the AGE Reader mu
(Connect).
This decision had to be made given the fact that the optical calibration of these AGE Reader SU
models are no longer supported and that key replacement parts such as the spectrometer are no
longer available. 
As a user of the AGE Reader we understand that you would like to continue having the ability to carry
out AGE Reader measurements. For more information and the possibilities please contact our customer support at support@diagnoptics.com or +31 50 5890612 (during office hours). 
Latest news items
INFORMATIONSANFRAGE
Möchten Sie mehr über unsere Produkte erfahren? Fordern Sie alle Informationen an, die Sie hier erhalten möchten.
Nichtinvasive kardiovaskuläre Risikobewertung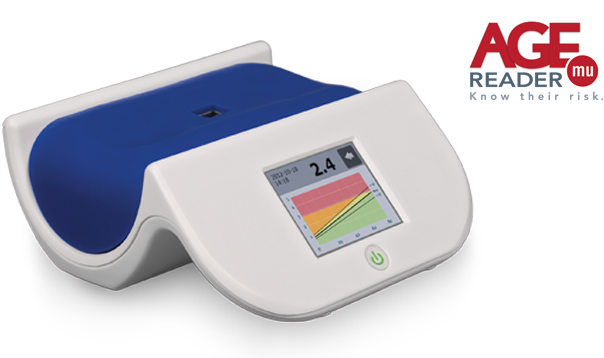 Der AGE Reader mu ist der AGE Reader der nächsten Generation, der einen hohen Messstandard mit einem innovativen Design und einem reduzierten Preisniveau verbindet. Der AGE Reader mu ist das perfekte Hilfsmittel für Diabetologen und Hausärzte.
Mehr »
If you want to receive the newsletter with information about DiagnOptics' products, please send us your email address.