Risk scores for cardiovascular events
Clinical guidelines in most countries prescribe physicians to use cardiovascular risk scores such as Framingham, UKPDS risk engine and SCORE. These risk scores use multiple clinical measurements (blood tests) and calculate the cardiovascular risk of patient based on that. In daily practive these risk scores are rarely used by physicians because it requires a number of time consuming and expensive laboratory tests and the clinical performance is moderate.
Recommended reading: AGE Reader adds clinical information to UKPDS 
Read more about improving your cardiovascular risk assessment
Request information
Would you like to learn more about our products? Request any information you wish to receive here.
Non-invasive cardiovascular risk assessment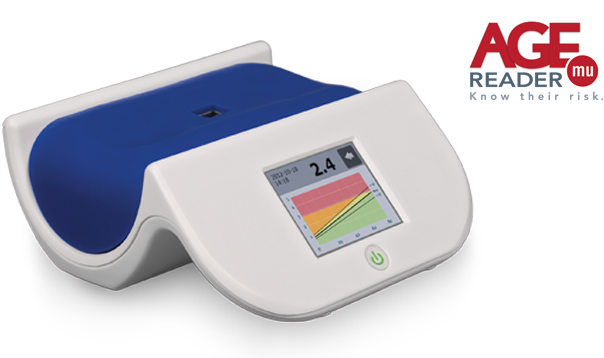 The AGE Reader mu is the next generation AGE Reader that combines a high measurement quality standard with an innovative design, at a reduced price level. The AGE Reader mu is a perfect tool for diabetologists and family doctors.
Read more »